The DWF Foundation (also referred to as the Foundation) is an independent charity, founded by DWF. It has the sole aim of providing funds, resources and mentoring support to help individuals, groups and communities to achieve their full potential.
Foundation journey
Since December 2015, the Foundation has been the focus of charitable giving for DWF and reflects DWF values and culture of contribution. As of December 2021, the Foundation had distributed grants totalling over £745,000 to good causes. Those grants were made possible by DWF's fundraising activities and donations.
All operating costs associated with running the Foundation are covered by DWF, so every penny raised goes to support good causes.
Today, through the combined philanthropic efforts of both DWF and the DWF Foundation, opportunities are being created for people to believe, inspire and change.
Key highlights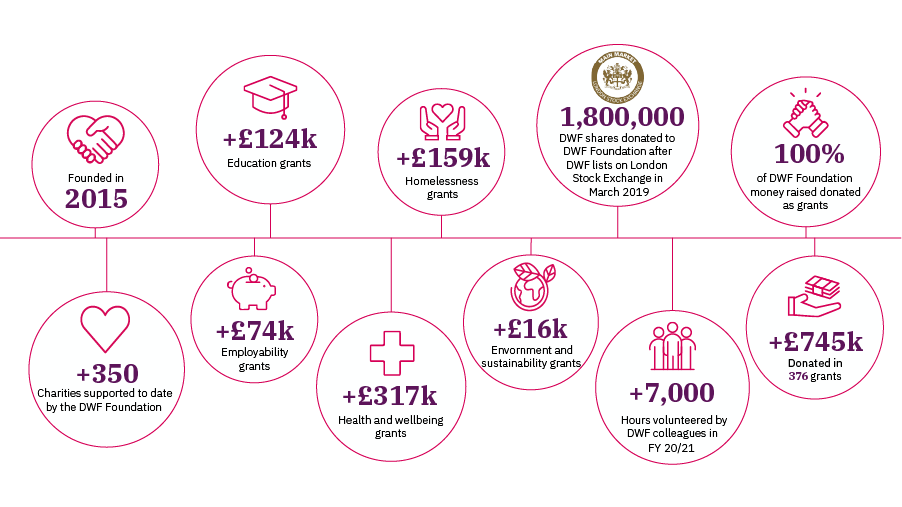 Areas of support
The DWF Foundation supports registered charities with an impact in one or more of the following areas:
Homelessness
Health and wellbeing
Employability
Education
Environment and Sustainability
These themes also align to DWF's purpose and enable us to work together to maximise the support given to communities.
Grants are given to initiatives that develop and improve local communities by:
Tackling a specific community issue.
Helping voluntary and community groups become more effective and efficient.
Encouraging the involvement in the community of those too often excluded.
Enabling young people to develop skills for the benefit of the community.
Impact to date
Between the launch of the DWF Foundation in December 2015 and December 2021, the Foundation awarded grants totalling over £745,000.Find out how the grants have helped individual charities.
HEAR FROM SOME OF THE CHARITIES THE FOUNDATION HAS SUPPORTEDHow to apply
If you are a registered charity working in a country where DWF has a presence and would like to make an application for a grant, please complete the online DWF Foundation application form.
Only requests received via the online application process will be considered.
Please refer to the grant guidelines before you submit your application.
COMPLETE THE DWF FOUNDATION APPLICATION FORMGrant guidelines
For information about the type of projects that are supported by the DWF Foundation and how our application process works, please download the DWF Foundation Grant Guidelines.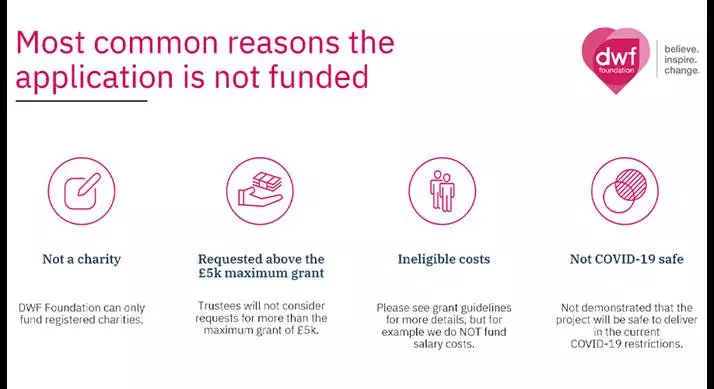 DOWNLOAD THE DWF FOUNDATION GRANT GUIDELINESLocations
The DWF Foundation focuses on providing grants and support to charities in locations where DWF operates:
Australia
Canada
France
Germany
India
Ireland
Italy
Poland
Qatar
Spain
United Arab Emirates
United Kingdom
United States
DWF also has associations with other law firms in the countries below but DWF Foundation does not currently fund in these locations:
Singapore
South Africa
Turkey
Employee Support
The DWF Foundation is at the heart of DWF, supporting DWF's values and culture of contribution. Each of DWF's offices has its own CSR committee, driving fundraising for the Foundation. The DWF Foundation takes an innovative approach to its philanthropic efforts working with DWF's people to achieve more. DWF's people support the Foundation's charitable work through fundraising, volunteering, team challenges, mentoring and pro bono initiatives.
The Foundation continues to work extremely closely with the CSR teams to maximise its fundraising efforts and thereafter to maximise the impact of the DWF Foundation on those charitable causes that we are able to support.
The DWF Foundation isn't just about money, it's about supporting people to make a positive difference in local communities through donations of time, money, expertise and resources. There are lots of ways people can get involved and support the Foundation, from participating in charity challenges, raising money through sponsorship, purchasing charity merchandise and getting involved in local fundraising events. There is an opportunity for everyone to get involved.How you can help
We are always keen to hear from companies or organisations that wish to support the work of the DWF Foundation through contributions, or by working together on a specific event or activity. Please contact the DWF Foundation Manager if you would like to get involved or you can visit our donate page to make a cash contribution.FAQs
The Foundation team have compiled a list of FAQs to assist the application process. We would encourage you to take a look at these before you apply online.
The DWF Charitable Foundation is a registered charity (CIO) number 1191347.
DWF Foundation
Donate to the DWF FoundationVisit our donate page to make a contribution Attend an application workshopJoin the DWF Foundation Manager on an online workshop to help guide you through the application process. Apply now.
Contact the DWF Foundation team
SOURCE https://dwfgroup.com/en/about-us/dwf-foundation