What Can Outsourced Bookkeeping Services Do for My IT Company?
Your and your employees spend all day providing the best IT services possible to your customers. The day-to-day grind makes it difficult for you to find the time to focus on working on the back end of your business by making sure your financial accounts are up to date. But doesn't your business deserve the same high caliber of service for maintaining your books?
Bookkeeping is important for managed service providers of all sizes and across varying industries, including IT. Businesses use bookkeepers in some form for at least basic financial record-keeping. The work, which is very clerical in nature, often involves the recording and reporting of income and expenses, invoices, late bill payments, cash flow, payroll, and paying bills.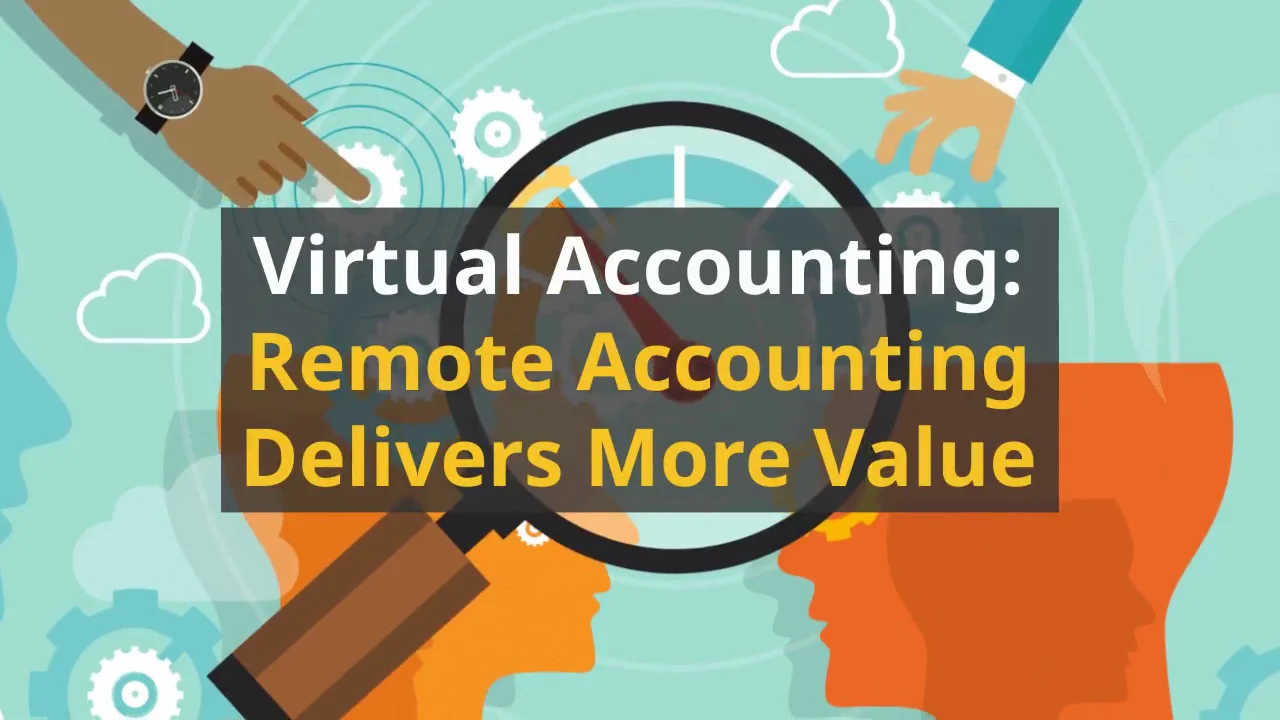 1:26
"IT organizations continue on a path of steady but modest growth in operational budgets while capital budgets and hiring are essentially flat," according to a report by the marketing research firm Computer Economics. Considering this growth, it is particularly important for IT services leaders to have full and accurate awareness of their businesses' finances.
For small- to medium-sized businesses, the bookkeeper doing the day-to-day work may be a part-time or full-time employee, a friend or spouse of the owner — or even the owner himself or herself — but someone always fills the role regardless of his or her qualification.
An IT business needs an bookkeeper and an accountant with a high level of expertise, in addition to being technically savvy with the latest financial software, to properly manage the company's important financial records.
Here are six reasons you need to Outsource your bookkeeping to a team of bookkeeping and accounting experts who will handle your business with the same care and integrity as you:
1) Provides You With a Dedicated Team
Our outsourced bookkeeping services provides you with a U.S.-based dedicated team that consists of a bookkeeper, staff accountant, and accounting manager — you will receive the fractional share of a full accounting department for less than what it would cost to hire a full-time in-house bookkeeper or accountant.
Outsourced bookkeeping and accounting services often provide higher quality and deeper expertise than what you can get for the same price for an in-house employee. Our employees come to you with specialized industry knowledge in bookkeeping, accounting and technology that will ensure your business is compliant with all state and federal regulations and tax laws.
2) Creates a System of Internal Controls
Having the responsibility of maintaining your books resting on one individual employee rather than separating the duties among several jeopardizes the integrity of your financial information and increases the risk of fraud. By outsourcing your bookkeeping services, you will create a system of internal controls to help protect your business from fraud and human error.
No longer will your most important records rest solely in the hands of a single point of failure — you can rest assured knowing that your records are protected and have a system of checks and balances to ensure they are accurate at all times.
If you do not implement a system of internal controls, you, essentially, are handing over your keys to the bank. Your employees can steal from you and cover their tracks — and you won't know what is happening until it is too late.
Although no one wants to assume the worst of their employees, we have put together a list of signs that your bookkeeper is stealing from you and ways that you can prevent fraud.
3) Ensures Your Records and Accounts Accurate, Up to Date
Few things are more frustrating for a business owner than not knowing whether your accounts and records are up to date. Worry no more! When you outsource your bookkeeping, not only will your account information be accurate and timely, the information also will be available to you anytime, anywhere with the click of a mouse or via your mobile device thanks to our cloud-based QuickBooks-centric system.
The use of cloud technology in virtual bookkeeping improves accounting accuracy and collaboration between colleagues by providing automation and integration of business functions in a platform that enables all authorized users to access documents and data.
While controllers typically are responsible for the month-end reconciliation, bookkeepers often maintain and reconcile general ledger accounts, including overhead and inventory. Our team would handle all of these responsibilities for your business, along with your accounts payable and receivable and other bookkeeping responsibilities.
4) Gives you Peace of Mind with a Safe and Secure Technology Environment
As an information technology services provider and expert, you understand the critical importance of operating in a safe and secure digital environment when it comes to handling your sensitive financial records and data. Because we operate using cloud-based technology, our QuickBooks Certified hosting partners host your QuickBooks Pro, Premier or Enterprise files on their secure servers. Or we can put your company on QuickBooks Online if its right for your business. Either way, your information is available to you and your team 24/7 and you can enjoy the knowledge that your information is being continuously protected.
5) Keeps Your Employees Paid on Time
With our outsourced bookkeeping service for payroll processing, never again will you have to worry about your employees not being paid accurately and on time due to human errors. We will set up any weekly, biweekly, semimonthly or monthly payroll services for you, calculate all payroll withholdings and any employee or executive bonus calculations.
6) Makes Sure 'Uncle Sam' is Happy – Outsourced Bookkeeping Services
In some businesses, bookkeepers are responsible for preparing tax returns for payroll, unemployment business and operating expenses, and more; in other business, owners prefer to keep tax-related responsibilities separate from bookkeeping. By outsourcing your bookkeeping service to our experts, we will make sure your taxes are properly recorded and paid so you can avoid the No. 1 mistake in sales-tax bookkeeping. An added bonus is that your business will experience a reduction in employer payroll taxes by not having to employ any in-house bookkeeping or accounting staff!
If you're you're interested in outsourcing but are not sure whether your business is in need of basic bookkeeping or advanced accounting services, check out our blog to help you determine the lifecycle stage of your business.
GrowthForce offers customized solutions to meet your basic or advanced bookkeeping and accounting needs. We hire and continuously train our bookkeeping staff and associates to provide you with the most accurate service possible. If you're ready to get a better perspective of your IT company's financial future through its records, let's discuss how our GrowthForce bookkeeping and accounting services professionals can best serve you.
SOURCE https://www.growthforce.com/blog/what-can-an-outsourced-bookkeeping-service-do-for-my-it-services-company