Rediscovering alternative assets in changing times
Alternative assets are well known as an attractive way to diversify and enhance returns, but as market conditions change and investment options shift, investors and asset managers should re-examine their approach and question longstanding assumptions.
It's time to look at alternative assets differently
Historically low interest rates and the enduring effect of quantitative easing are making markets expensive, so investors continue to turn to alternative asset classes where alpha looks better.
But surplus capital and other factors have forced valuations up and prospective returns down. Changes in how we work and live, prompted by new technology, innovative business models, and geopolitical shifts, could render many real assets obsolete while creating opportunities elsewhere. We also see new entrants disrupting the sector, capturing value and market share.
In this report, PwC examines the fundamentals behind this transformation and the changes across the following asset classes:
Private Equity
Real Estate
Infrastructure
Hedge Funds
Credit/Private Debt
PDF, 1.2mb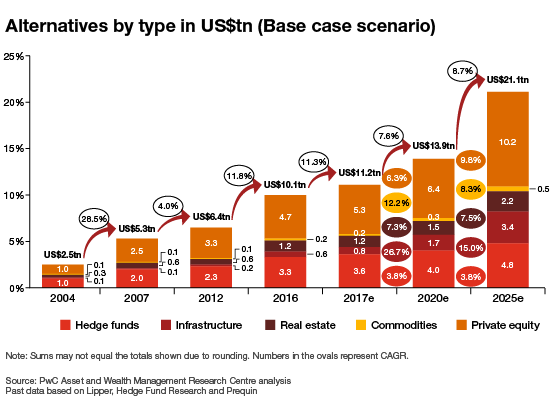 Challenges across asset classes
Private Equity
Specialising and accepting longer terms
Private equity has earned high returns for investors in the past, yet there is scepticism about whether this can continue. Managers acknowledge that competition for assets is intense, increasing entry prices and reducing potential returns. Some are reacting by specialising more and investing for longer periods of time in new evergreen structures.
Longer-term funds suit more patient investors, such as sovereign wealth investors or family offices. We think funds with terms of ten years or longer, or even evergreen, versus the typical term of six to eight years, are likely to become more popular.
Already, private equity firms are investing in businesses at earlier stages in their lives and remaining invested longer, squeezing out more returns. We've seen instances in which private equity funds have invested in a business, improved the stability of earnings and then sold it on to a later-stage, infrastructure-type fund looking to harvest sustainable returns over many years. This is a sign of things to come.
Real Estate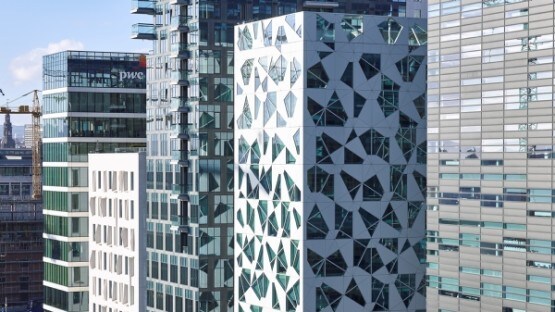 Accessing operational expertise
In a world of falling interest rates and stable business models, real estate has rewarded investors with strong returns. But the world's largest and oldest asset class is likely to be challenged in coming years by both a gradual reversal in the rate environment and fast-changing business models.
Shifts in human behaviour and technology, as well as the evolving needs of the built environment, are driving significant change in the nature of real estate as both an investment class and as a product or service we all use as consumers.
Real estate is continuing its journey to being less about ownership and more about access – or services and outcomes. This is important for investors, which either need to find innovative and cost-effective ways of accessing operational expertise and innovation or face diminishing returns.
Hedge Funds
Earning alpha, harvesting beta
The hedge fund industry has a challenge: how can it reinvent its investment edge and refresh its brand while also readjusting to changing performance and fee expectations?
There is already light on the horizon, though. The biggest, best-performing hedge funds are in high demand – especially large multistrategy funds that offer diversification to institutional investors and differentiated specialty managers. And as central banks start to reduce quantitative easing (the practice of buying bonds to increase the money supply), savvy managers have more security price dispersions to arbitrage.
The future depends on technology and data as much as talented traders. In a sign of things to come, managers are creating roles for leaders of machine learning. Investment analysis, for some strategies, is a task increasingly suited to computers, so human analysts will find themselves challenged.
'Alternative' beta – the new frontier in quantitative, factor-based investing – has revealed that some of what was regarded as alpha resulting from manager skill is, in fact, inexpensive market beta. Expansion of the alternative beta concept depends on data and technology.
Survival of the fittest will lead poor performers or undifferentiated niche strategies to wane, while differentiated, outcome-based strategies will grow. But increasingly, technology will have a big part to play – whether to earn alpha or harvest beta.
Credit/Private Debt
Squeezed returns
The effect of regulation has created a financing gap that asset managers have rushed to fill. Retreating banks have offered investors an opportunity for greater yields than those available in public markets, as well as diversification through very different sets of return characteristics.
The global regulatory framework – spanning banks' capital adequacy, stress testing and market liquidity – has increased the cost of capital associated with loans. It has forced many banks to reduce their balance sheets significantly and bolster the core capital they hold as insurance against losses.
Credit funds have filled the gap by investing in a broad stable of assets, including leveraged finance loans, real estate and infrastructure loans, small- and medium-size enterprise loans (direct lending) and private placement notes.
Yet even in the relatively new credit asset class, weight of capital is suppressing returns. Asset managers are looking to more niche areas, such as aircraft finance, for returns. Some asset managers are also setting up businesses to source credit.
With yields tightening and covenants getting lighter, there is an argument that the biggest credit managers are most likely to succeed.
Infrastructure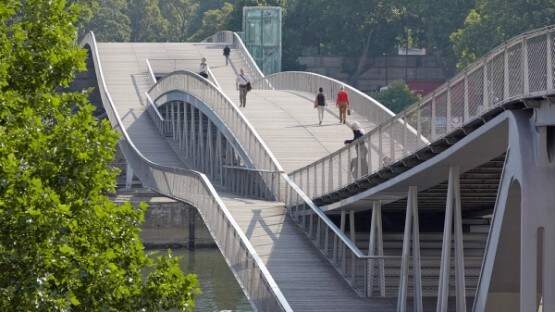 Pushing the boundaries
A recent significant rise in the multiples used in stock valuation has left experts questioning whether infrastructure is in the middle of a valuations bubble or whether it is maturing as an asset class, with investors accepting lower, risk-adjusted returns for the longer term.
Just as in other long-term, lower-risk asset classes, low rates on gilts have driven prices up and return expectations down significantly for core infrastructure assets, such as low-risk utilities. And with a rising number of investors attracted by the long-term, income-generating characteristics of the asset class, a significant amount of new capital is being committed to the sector.
As the pipeline of low-risk, mature, investable (core) assets gradually declines, with more assets in the hands of long-term investors, deal flow has failed to keep pace with the capital being allocated to the sector. Investors are instead having to look at riskier assets in broader geographies to meet their target requirements. This shift is changing the very definition of infrastructure assets, a class which now includes sectors such as broadband and fibre, utilities that have become essential to our daily lives.
With the ever-increasing breadth of the infrastructure market, investment challenges will increase along with asset requirements. Investors seeking core returns in consortia arrangements will no longer be able to rely on a "lead investor." They will need to create (and incentivise) strong management teams and build their asset monitoring capabilities. And investors seeking either to push the boundaries of infrastructure or carve out and transform assets will probably have to embrace more risk than they did historically, and they will need to develop asset leadership skills and deal with technological advancement and disruption.
Fresh thinking, agile investing
In our view, investors should act now by focussing on three things as alternative asset management moves towards a new paradigm:

Strategy
It's time to have a clear view of the changes that will affect alternative asset management tomorrow and to reorganise investment portfolios and teams accordingly.
Large institutional investors might want to reorganise by merging real estate and infrastructure areas, for example, to reflect increasing overlap in real assets. But if these changes are merely cosmetic, they'll probably just consume resources and be futile.

Technology
All investors must understand the impact of technology on their investments. Increasingly widespread digitalisation, as well as application of artificial intelligence and alternative data, will affect all asset classes.
Over time, we expect to see investors actively investing in and developing new business models – learning from those investments and discovering new value but ultimately embracing technology-driven change.

People
Investors need new skills, and firms need new employment models. Organisations should have the skills to understand the impact of new technologies on investment strategies, or knowledge of emerging markets. We believe this will require asset management teams to become more diverse, with a wider range of commercial experience and geographical presence. Business units should be structured and incentivised to look beyond traditional investment silos, to challenge lazy strategies or to identify the threat of new entrants and new business models.
Download the report (PDF, 1.2mb)Rediscovering alternative assets in changing times 
SOURCE https://www.pwc.com/gx/en/industries/private-equity/rediscovering-alternative-assets-in-changing-times.html