How to Choose the Right Bookkeeping Software for Your Business?
What is bookkeeping, bookkeeping software, and why is it important?
Bookkeeping is the process of storing, managing and retrieving your business's financial data. Bookkeeping includes all tasks related to recording and pulling out financial transaction information when required. Bookkeeping tasks include looking at the accounts receivable and recording customer receipts. It also includes billing tasks for the goods your business sold or the services your business provided to customers. Bookkeeping involves verification of supplier invoices and recording depreciation. Other tasks of bookkeeping involve processing wages and salaries of employees in a business. Bookkeeping is an ongoing process for every business.
Bookkeeping is an essential component of all businesses because financial decisions are based on the accuracy of the data that is recorded through bookkeeping. Bookkeeping is a part of accounting. Bookkeeping records the daily financial transactions of a business which are important for making critical business decisions and generating reports which is the case with accounting. The financial analysis depends on precise and accurate data which is why proper bookkeeping is key. Only when proper bookkeeping is performed can decision-makers make accurate financial decisions and projections. A bookkeeping software allows you to perform all bookkeeping tasks.
What does a bookkeeper mean and how does it differ from an accountant?
A bookkeeper is an individual who is responsible for bookkeeping and performs tasks such as bills payment. Bookkeepers generally work for small to medium-sized organizations. They are generally not employed by larger corporations because these companies have other individuals who are responsible for particular tasks such as payroll clerks and accounts payable clerks. Additionally, large firms have way too many financial transactions. A bookkeeper has a sound knowledge of accurate storage of financial data and is expected to complete recording tasks quickly without making mistakes. His work is analyzed and reviewed by an accountant.
A bookkeeper is not the same as an accountant. An accountant is someone who has a college degree in accounting. An accountant does the tasks which follow after the recording of the transactions by a bookkeeper. For instance, an accountant is responsible for preparing adjustments that aren't recorded by the bookkeeper. Accountants are the ones making the adjusting entries rather than the bookkeepers because it is their task to do so. Accountants also prepare the various financial statements required such as the statement of cash flows, income statement, and balance sheet. An accountant has a broader view as he helps assist the management in making the right financial decisions based on the various reports.
What are the differences between bookkeeping software and accounting software?
| | |
| --- | --- |
| Business software | Accounting software |
| It is used to record the financial transactions of a business on a day-to-day basis. It forms the foundation on which accounting can work. It uses categorization to properly store business financial data in an easy-to-retrieve manner. | It can perform easy functions such as storage of accurate financial information similar to bookkeeping software and can perform complex tasks. These tasks include financial statements and financial reports. |
| Bookkeeping software does not need someone with a college degree to handle it because it is quite simple and easy to use. People with limited accounting knowledge can use it and those without an accounting background can learn it fairly quickly. | Accounting software can vary in complexity and they are best understood by accountants. Businesses might need an accountant to make the best use of accounting software. However, some software solutions such as TallyPrime are easy to use. |
| It is best used by startups and small businesses as it has limited functionality in comparison to accounting software. It will mainly have various functions that are all required to record and store financial information of your business. | It can be used by startups, SMBs, and large enterprises because of its diverse range of functionalities and features. It can perform a wide range of accounting tasks on the basis of accurate financial records and provide insights. |
| Bookkeeping software is solely used for the purpose of recording and storing transactions. This is valuable for the accountant as he works based on the accurate information stored in the bookkeeping software. The bookkeeping records aren't interpreted using bookkeeping software. | Accounting software takes bookkeeping records into consideration and interprets them to generate reports and statements. It thoroughly analyzes and can make projections, estimations, and perform calculations based on the financial data of your business. |
| It is being used to replace the earlier use of actual people or bookkeepers to minimize data entry errors and other human errors. Bookkeeping software has made it easier for bookkeepers to maintain business records for higher precision. | It is now being used in the place of bookkeeping software because it includes all that bookkeeping is about. Accounting software is used to make quick decisions based on reports generated by it and can help key business people think of the best way to improve the business. |
How to choose bookkeeping software for your business?
Bookkeeping software shouldn't be chosen at random. You should first think of why you need bookkeeping software to begin with and the features you are looking for. You should consult your employees to better understand the business needs. Do you need features such as payroll management, inventory management, and taxation? You should get specific with what you need as it will make finding bookkeeping software much easier. Next, you should think of how long you will need it for. Are you planning to use it until your business grows or do you always want to use it because you are serious about your business?
Bookkeeping software is always required but so is accounting software. Does that mean you should get accounting software that has bookkeeping functions? You should also look into the upgrade option because your small business will grow. Does the software allow for easy upgrade options that are cost-effective? Some software solutions are only made for MSMEs so they are limited to that functionality only. However, other software tools have easy upgrade options so the software grows with your business. You should pick software solutions that offer a free trial such as TallyPrime whereby you can test all features to see how well it fits your business.
Should I use paid or free bookkeeping software?
Business owners often face the dilemma of choosing between paid and free bookkeeping software. The choice ultimately depends on your requirements and the level of support you need. Free bookkeeping software won't provide you the flexibility, support, and features you need to perform tasks. However, it is ideal for people who require limited functions and features or want to use it just to understand the basics of bookkeeping. Free bookkeeping software isn't ideal for businesses that want to scale and that will grow in the future. Paid bookkeeping software can provide features depending on your business needs and can charge on the basis of various factors.
Paid accounting software that has bookkeeping embedded in its functionality will charge a higher price than bookkeeping software. Businesses that want to grow and scale should look at purchasing paid accounting software as it is more useful in the long run. You can generate insightful reports, get accurate projections, and perform loads of tasks that can have a direct impact on the bottom line. Paid accounting software is an investment worth looking into as it can make the life of key decision-makers easy by providing tools to better understand the financial health of a business.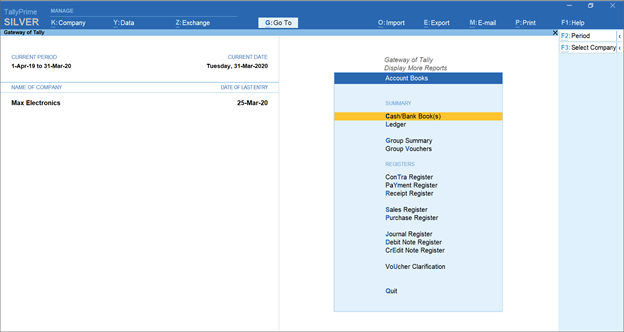 Accounting Reports in TallyPrime
TallyPrime is a robust business management and accounting software that can be used by MSMEs and large corporations. It has a plethora of features such as inventory management, invoicing, accounting, and banking features that make everyday transactions easy to record and work with. TallyPrime enables you to generate over 400 reports where you can specify what you wish to see and the level of detail giving you complete control of reports. It has GST and taxation features, ensures secure data retrieval, and gives you the power to manage credit and cash flow. TallyPrime is a complete business accounting software that can take care of simple and complex tasks. 
SOURCE https://tallysolutions.com/erp-software/how-to-choose-the-right-bookkeeping-software-for-your-business/