Business Insurance For Entrepreneurs
Business insurance coverage can help protect your business in the short-term and long-term. So, what's the best insurance for entrepreneurs? For many companies, certain small business insurance coverages, like general liability coverage, property insurance and workers' compensation insurance, are essential. These policies help protect your operation, employees and customers. Many companies also choose to bundle their liability and property insurance with a Business Owners' Policy (BOP). This is not only more convenient, but it can help you save money. On top of this, BOPs are easily customizable and allow you to add additional coverages, like professional liability insurance or data breach coverage, to your policy.
Do Entrepreneurs Need Insurance?
If you're asking yourself, "Do I need business insurance?" The answer is most likely. Entrepreneurs can benefit from having coverages like general liability insurance. For instance, if you're meeting clients in your office, you'll want a general liability insurance policy because it can help cover any customer injuries. If you have employees, you'll also likely need workers' compensation insurance to help workers recover from work-related injuries or illnesses.
What Insurances Do Entrepreneurs Need?
There are a variety of business insurance policies you can choose from. The most common ones that entrepreneurs benefit from are:
Still asking yourself "What insurance do I need for a small business?" You can learn more about the coverages you need and insurance premiums by getting a quote today. Our specialists will work with you and help you select coverages that fit your business best.
What Is the Best Insurance for Entrepreneurs?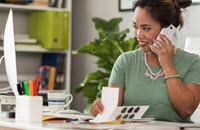 What's the best business insurance for entrepreneurs? In many cases, it's a Business Owners Policy (BOP). This policy combines business property and liability insurance into one convenient policy. It can help cover claims resulting from fire, theft and other covered disasters.
How Much Does Insurance for Entrepreneurs Cost?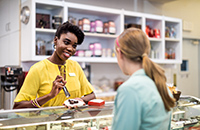 The cost of business insurance depends on the kind of business you have. The higher risk your company is, the more you'll pay for insurance coverage. Generally, small business insurance costs anywhere from a few hundred to a couple thousand dollars a year. Insurance companies look at certain factors when determining cost, which can influence how much you'll pay for coverage. This includes your:
Company size
Number of employees
Coverage needs
Property owned
Type of assets
Get a Quote for Entrepreneur Insurance
Need an insurance plan that covers your entire business operation? We can help. We're an insurance company you can count on to find the right coverages at affordable prices. In fact, we've helped small businesses and entrepreneurs get the coverage they need for over 200 years. To learn more about coverages and monthly premiums, get a quote today.
SOURCE https://www.thehartford.com/small-business-insurance/insurance-for-entrepreneurs